Thank you in 31 languages
Arigató! - Japanese! Kiitos! - Finnish!
Practice vocabulary for languages with a video and a mingling activity while developing your students' intercultural skills. Suitable for beginners. See procedure and materials in the attached file

---
A 2018. október 12-i #ErasmusDays anyagai elérhetőek
itt
.
---
Are mobile phones as addictive as alcohol?
Simon Sinek poses this provocative question in this video and explains why phones are ruining social relationships. He has very strong views on this topic, so the video could be a start of a discussion / debate. I watched it with B1+ students and they understood and enjoyed it.
Click on the image for the video.

---
Hungarian Food
American students taste Hungarian dishes in this video. They try to guess what is in the dish, there are also short descriptions of the different dishes. Ideal to introduce the topic of Hungarian cuisine at or above B2 level.
Click on the image for the video.

---
The Black Hole - develop your students' critical thinking skills
This award winning short film is great for developing critical thinking (and speaking) skills, which is identified as one of the 21st century skills. The film can be used from B1 level onwards, in any language (mother tongue included). It lends itself to discussion, but you can also consider a writing task: write down the story as if you were the man in the film; write it out as a police report; write it down as a dream you had; etc.
Click on the image for the video.

---
---
To be or not to be - Only the stress is the question...

A brilliant short performance with stars on stage at Stratford as part of Shakespeare Live, a light-hearted tribute to Britain's most famous writer, 400 years to the day after he died.

---
Powered by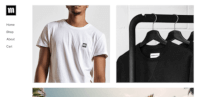 Create your own unique website with customizable templates.